THUNDERBOLT MULTIPOWER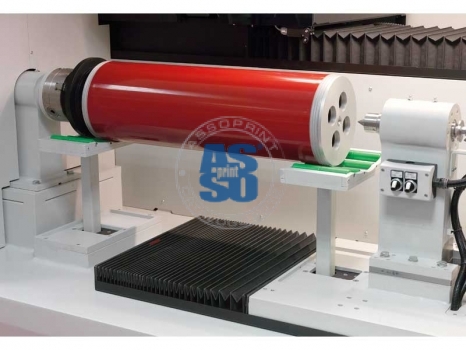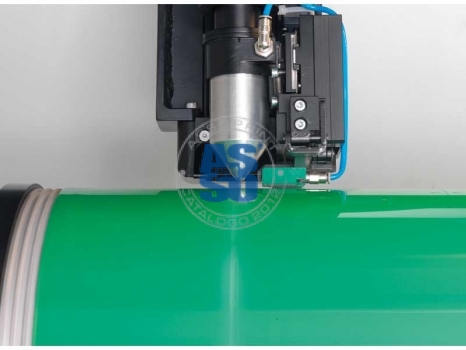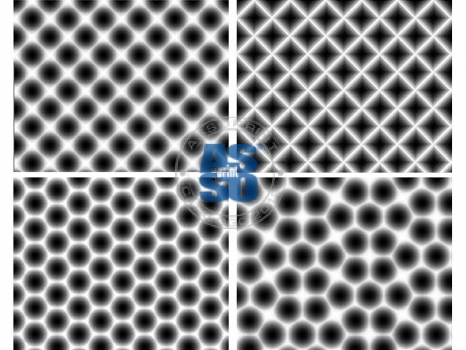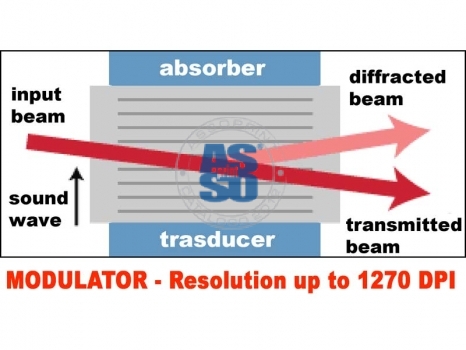 | Code | Quantity | Dimensions cm. L x P x H | Model | Name | POWER | request |
| --- | --- | --- | --- | --- | --- | --- |
| LSFE30053 | 1 | 430x195x225 | THUNDERBOLT | LASER ENGRAVER | MP 150 W | estimate |
| LSFE30054 | 1 | 430x195x225 | THUNDERBOLT | LASER ENGRAVER | MP 200 W | estimate |
| LSFE30055 | 1 | 430x195x225 | THUNDERBOLT | LASER ENGRAVER | MP 250 W | estimate |
| LSFE30056 | 1 | 430x195x225 | THUNDERBOLT | LASER ENGRAVER | MP 300 W | estimate |
| LSFE30052 | 1 | 430x195x225 | THUNDERBOLT | LASER ENGRAVER | MP 300 W X 2 | estimate |
| LSFE30057 | 1 | 430x195x225 | THUNDERBOLT | LASER ENGRAVER | MP 600 W | estimate |
| LSFE30058 | 1 | - | OPTIC-ACOUSTIC | MODULATOR | - | estimate |
USE:
Laser machine for engraving silicone and rubber cylinders for printing.
The machine can process all types of cylinder present on the market.
The machine can be configured with different laser sources, according to the different production requirements.
DESCRIPTION AND FEATURES:

ENGRAVING HIGH PRECISION

ENGRAVING TIME REDUCTION

VARIABLE CAPACITY CO2 LASER 150W-200W-250W-300W-600W

600W CAPACITY WITH SINGLE LASER

600W CAPACITY WITH 2 PARALLEL 300W LASERS

MODULATOR WITH RESOLUTION UP TO 1270 DPI

MOTORISED LASER HOLDER TROLLEY

FLOATING HEAD

SEALED OPTIC PATH

ALIGNMENT HIGH PRECISION

LASER CONTROL AND MANAGEMENT SOFTWARE

PROCESSES ALL TYPE OF CYLINDERS

CYLINDER LIFTING DEVICE

MOTORISED CLOSING DOOR
MECHANICAL FEATURES:

Important standardised electro-welded steel structure with high stability to ensure maximum engraving precision on large cylinders (Rollmaster TR5 H18), even at high rotation speed.

Optic holder trolley mounted on special linear guides with ball recirculation trolley having ground screws to give stiffness and precision to the system. This reduces alignment errors and enhances the tolerance to any vibrations.

Handling the focusing unit by means of mobile lens autofocus, activated by a step-by-step micro-motor of aeronautic derivation. The position of the head is controlled by a software.

Cylinder rotation and laser holder trolley shift with Brushless motors.

Optic-acoustic modulator that can control the capacity of the laser with high precision, ensuring definition and stability of the engravings, resolutions up to 1270 dpi, and engraving time reduction up to 50% (optional).

The machine is equipped with a cylinder lifting device, to facilitate the operator for connection operations.

Minimum diameter 220 mm.

Max diameter 760 mm (vertical silicon small).

Maximum engraving length 1700 mm.

Cylinder maximum length 1800 mm.

Maximum cylinder weight 150 kg.
MOBILE HEAD UNIT FEATURES:

The structures of the mobile head unit moves in its whole during the engraving process; this allows the light beam dimension of the laser beam to not deform and, therefore, ensure high engraving precision on the entire cylinder surface.
FLOATING HEAD UNIT FEATURES:

The distance of the focal lens from the cylinder surface is maintained by a sensor with air bearing.

The auto-focusing system is extremely accurate and reactive, as it is based on the mobile lens principle.

The floating head allows high resolution engravings and speed without deforming the silicone surface.

A large range of optimised sensors is available for the several types of cylinder.

The sealed optic path can maintain the lens clean throughout time.
SOFTWARE FEATURES:

The management software can read an unzipped TIFF file. A PC system compatible with Linux operative system is used.

The user interface is simple and easy to use and allows recalling files archived from the menu of from data forwarding via network.

Integrated numerical control for handling and positioning lasers with +/-5 micron repeatability and precision.

Engravings can occur in continuous or step-by-step mode.

Engraving without joints in circumferential direction.

Multiple engravings with software management.

Module repetition in axial direction.

Spot dimension adjustment (minimum 40 micron).

Laser compensation curves available up to 255 levels.

Engraving record and archive.

Maintenance management with alarm diagrams.

Remote control and online assistance available.

All controls can be easily activated from the touch screen console.
LASER FEATURES:

The machine can be equipped with different types of lasers with variable capacity from 100W to 600W, with intermediate capacities of 150W, 200W, 250W and 300W.

600W capacity single and semi-sealed laser or two parallel 300W lasers.

CO2 sealed or semi-sealed laser.

100 Khz impulse repetition in direct modulation up to 1 Megahertz with modulator.
CAPACITY CONFIGURATIONS AVAILABLE:

N.1 SOURCE OF 150 Watt.

N.1 SOURCE OF 200 Watt.

N.1 SOURCE OF 250 Watt.

N.1 SOURCE OF 300 Watt.

N.2 SOURCES OF 300 Watt.

N.1 SOURCE OF 600 Watt.